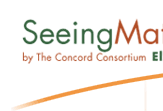 Seeing Math™ Partners: Teachscape

Find out more about how your school or district can get
Seeing Math™ Elementary.

Seeing Math™ Elementary is available through Teachscape, an educational services company that offers professional development support for teachers, with face-to-face training and online facilitation of rich Internet-based resources, and in-depth case studies of effective teaching. Teachscape collaborates with educators, schools and districts to customerize professional development programs to meet specific objectives and support district initiatives.

In addition to distributing Seeing Math™ Elementary, Teachscape also played a vital role in the program's development. The Concord Consortium partnered with Teachscape to develop the video case studies and other video clips featured in Seeing Math™ Elementary courses.

Click to find out more about Seeing Math™ Elementary offered by Teachscape.